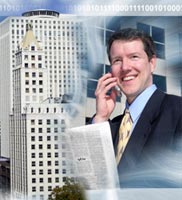 Why automate business?
What does it give to a modern company?



Automation of business is especially beneficial! Funds spent to purchase of programming tools pay off in the first six months. Next comes pure profit.



Operational control over the activities of the company, performance and attntion to the work of each employee ensures growth of the business, possibility of an effective expansion of human resources. A small company can operate normally and without automation, but with the expansion of the stuff system is necessary. According to research, without programming support a person can successfully supervise no more than seven subordinates.



Harnessing the opportunities of business automation allows overtake less adaptive competitors, and then absorb or displace them from the market.



Sophisticated automation system is simple to use and allows to avoid the highly-paid professionals. The software product does not require a long-term training and the availability of higher education. For a smooth functioning of the system a student level is sufficient.



Maintenance of the programs is guaranteed by the supplier. The system has a flexible structure that is open to amendments and additions in accordance with the requirements of the customer.



Automation system does not require prevention and repair. It is available to users every day, 24 hours a day.



The principal advantage of the automation system is a high speed. A complex report, on which an qualified employee has to spend full work day, the program generats in a matter of seconds. For weekly reports the savings will be 52 working days in a year, about 2.5 months of working. And if a several of those reports? It would take a team of specialists, and in case of this system it can be easily handled by one student.



Automation system makes the life of the staff easier. The program can remind users of timely implementation of one or other tasks. For example, in the famous fast-food restaurant in the process of order placement the cashier box at the right moment gives the operator a hint on the display: "Do not forget to offer the customer a dessert!" As a result, the sales increase.



Automation system provides the operator with complete and reliable information needed for adequate assessment of the current situation and timely decision-making.



Automation System ensures safe storage of information. Each employee works only with the data available to him in accordance with the level of the hierarchy in the company. Checking the access rights of users is software regulated; any unauthorized attempts to access information is recorded automatically.



There would be no need to keep a programmer in the stuff on a permanent basis. Disappear errors associated with the so-called "human factor". Computers are never tired or shy away from work.